Sabaku no Tami (民 漠 の 民) ist ein Comic, den Hayao Miyazaki schrieb und illustrierte. Hayao Miyazaki verwendete für die Veröffentlichung das Pseudonym Akitsu Saburo (秋 津 三 朗).
People of the Desert
Der Manga Sabaku no Tami erschien zwischen dem 12. September 1969 und dem 15. März und 1970.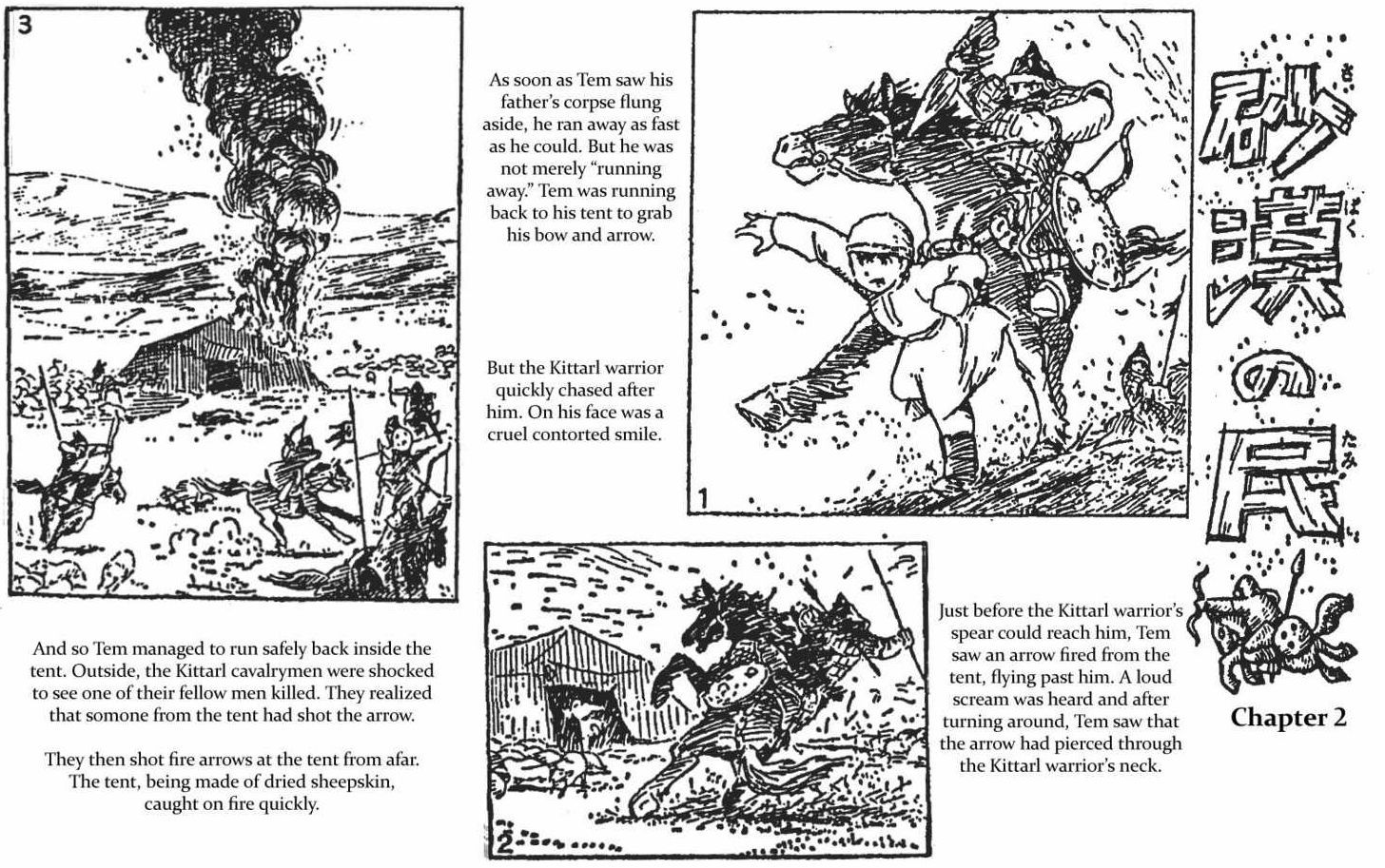 Story
Die Geschichte spielt in der fernen Vergangenheit eines fikitonalen Ortes in Zentralasien. Ein Teil der Geschichte spielt in der Festungsstadt Pejite (ペ ジ テ). Die Geschichte folgt den Heldentaten der Hauptfigure Tem (テ ム), eines Hirtenjungen des fiktiven Sokutstammes (ソ ク ー ト). Er versucht den berittenen Milizen des nomadischen Kittarustammes (キ ッ タ タ ー ル) zu entgehen. Um den Frieden in seinem Reich wiederherzustellen sammelt Tem seine verbleibenden Landsleute und Rebellen gegen den Versuch der Kittaru das Sokut-Territorium zu erobern und seine Bewohner durch militärische Gewalt zu versklaven.
Fazit
Richtig als Manga kommt Sabaku no Tami nicht rüber. Es wirkt wie eine Mischung aus historischem Bilderbuch mit wenig eingebauten Dialogen. Wobei hier der Bilderbuchanteil überwiegt. Der Comic erschien nicht auf deutsch. Bei der Geschichte handelt es sich um den Vorläufer von Nausicaä aus dem Tal der Winde.
The Journey of Shuna
The Journey of Shuna ist ein einbändiger aquarellgemalter Comic von Hayao Miyazaki. Viele Elemente seiner erfolgreichen Werke, sind hier bereits zu finden.
Die Reise von Shuna (シ ュ ナ の 旅) wurde von Hayao Miyazaki geschrieben und gezeichnet. Der Comic wurde als Softcover am 15. Juni 1983 bei Tokuma Shoten veröffentlicht.
Story
Die Geschichte beginnt mit Shuna, dem Fürsten eines kleinen Bergtals, dass Hunger leidet. Eines Tages erreicht sie ein alter sterbender Reisender mit einer Tüte toter goldener Samen. Bevor verstorben ist, erzählt er Shuna, wie er einst selbst ein junger Prinz war, der sich einst auf die Suche nach dem goldenen Korn als lebende Pflanze machte. Das Korn sollte aus dem Land im Westen stammen, wo der Mond untergeht. Er erklärt auch, dass dieses Getreide sein Volk vor dem Hunger retten würde. Shuna verlässt sein Volk, um es vor dem Hunger zu retten und macht sich auf den Weg durch die raue Landschaft.
Zeichenstil
Der Zeichenstil von Miyazaki entspricht bereits seinen erfolgreichen Werken. Viele Elemente finden sich hier bereits wieder, die bei den Chroniken von Erdsee und Nausicaä zu finden sind.
Fazit
Die Geschichte von Shuna enthält viele Elemente, die sich in späteren Werken Miyazakis wiederfinden. Der Comic ist sehr gut gezeichnet und hat einen erzählenden Stil und ist mit Action und Ereignissen ein richtiger, allerdings vollfarbiger Manga. Wer Miyazakis Werke kennt, sollte ruhig einen Blick riskieren. Bei dieser Geschichte lohnt es sich auf jeden Fall.
Otto Carius Doromamire no Tora
Dieser Manga von Hayao Miyazaki wurde vollständig mit Wasserfarben koloriert. Er schuf ihn in Gedenken an Otto Carius, einem deutschen Panzerkommandanten. Er zerstörte während des Zweiten Weltkrieges mehr als 150 Panzer. Ursprünglich stieß er 1941 während des Angriffs auf Russland zur 20. Panzerdivision. 1943 kam er dann zum 502er Tigerbataillon. Diese Einheit kämpfte bei Leningrad in den Gebieten von Narva und Estonia. Carius wurde im Sommer 1944 verwundet und wurde dann 1945 im Westen zum Kommandanten der Jagdtiger-Kompanie im Westen. Im Mai ergab er sich den Amerikanern.
Miyazakis Manga handelt von den Heldentaten von Carius in Estland, während seines Kampfes gegen die vorrückenden sowjetische Armee. Die Charaktere sind als Schweine gezeichnet. Die Serie trägt den Untertitel "Mousou Nouto", was soviel wie "verrückte Idee" oder "Wahn" bedeutet. Gegenüber dem Titel, den Miyazaki ursprünglich geplant hatte, war dies eine Änderung. Der ursprüngliche Titel lautete "Zassou Note".