Der Tempel of Alamein ist ein Manga mit Short Stories von Yukinobu Hoshino. In den Kurzgeschichten wird die Zeit des zweiten Weltkrieges, mit teilweise fantastischen Elementen, thematisiert.
Tempel of Alamein (El Alamein no Shinden)
Die Geschichten sind so strukturiert, dass sie teilweise Fantasyelemente enthalten. Hoshino zeigt aber auch realistischere Geschichten mit der Brutalität des zweiten Weltkrieges. Der Manga erschien 1998 im Scholar Verlag. 2000 brachte ihn Media Factory heraus und 2003 übernahm der Gentosha Verlag die Veröffentlichung.
Die Geschichten
Ein Unterseebot macht Jagd auf deutsche Kriegsschiffe, ein deutscher Soldat findet in Ägypten Ruinen, in denen Dinosaurier mumifiziert wurden. Ein deutscher Pilot kämpft gegen die Invasion in der Normandie und ausländische Oberbefehlshaber versuchen die japanische Kultur zu unterdrücken.
Folgende Geschichten sind enhalten:
Seelöwe
Temple of El Alamein
Where Eagles Dare
Ardennes Forest
National Shame Manga
Die Zeichnungen
Die Zeichnungen von Yukinobu Hoshino sind realistisch gemacht. Der ganze Manga ist aufgrund der Gewaltdarstellungen in den Kriegszeiten nicht für jüngere Leser geeignet. Die Thematik an sich ist nichts für seichte Gemüter. Die Darstellung des Mangas ist eher wie kleinere Erzählungen gestalten. Aktiv handelnde Protagonisten gibt es nicht so viele. Zwar erzählt Hoshino nicht nur gänzlich, aber durch die Darstellung geht teilweise etwas Dynamik der Geschichten verloren, die sie hätten, wenn direkt mit handelnden Protagonisten erzählt würde.
Fazit
Der Manga ist trotz der Thematik sehr interessant zu lesen, auch wenn einige Geschichten sehr weit dahergeholt sind. Interessant ist, dass Hoshino auf realistische Nachweise wie die Narmer-Palette zurückgreift, um seine Geschichten glaubhaft zu machen. Wer sich von der Kriegsthematik nicht abschrecken lässt sollte einen Blick darauf werfen. Leider ist der Band bisher nur als Japanimport auf Japanisch oder Scanlation auf Englisch zu finden.
The Sea of the Fallen Beasts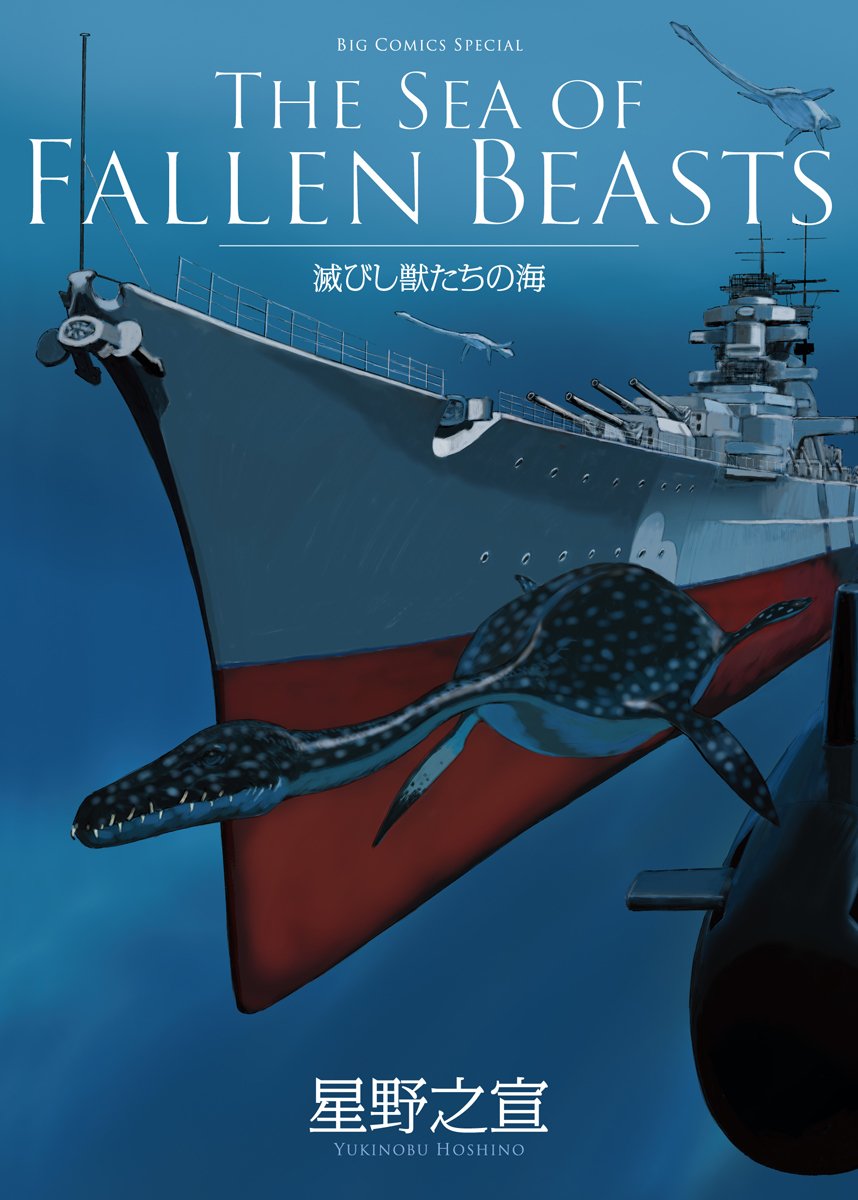 Das Thema des Mangas The Sea of the Fallen Beasts von Yukinobu Hoshino sind die verschiedenesten Seeungeheuer. Der Manga erschien im Original 1996 im Scholar Verlag. Auftritte haben Ungeheuer der Technik in der Zeit des kalten Krieges, Moby Dick, aber auch ein Monster in einer Dschungelruine, die etwas aus der Reihe fällt.
Folgende Geschichten sind enthalten:
• Chapter 01 – Red Zeppelin
• Chapter 02 – Legend of the Demon Whale
• Chapter 03 – Outburst
• Chapter 04 – Island of Sins
• Chapter 05 – The Sea of Fallen Beasts
Fazit
Die Kurzgeschichten in diesem Sammelband vereinen verschiedene Arten von Monster und sind sehr interessant dargestellt. Der Zeichenstil ist wie bei all seinen Werken realistisch. Die Geschichten kommen wie bei Tempel of Alamein mit etwas Fantastik aus und Mythologie aus. Der Kurzgeschichtenband ist auf jeden Fall einen Blick wert. Der Manga ist als japanischer Import erhältlich. Ansonsten lässt er sich in englischer Sprache als Scanlation online finden.
Legend of the Giants – Kyojintachi no Dentsetsu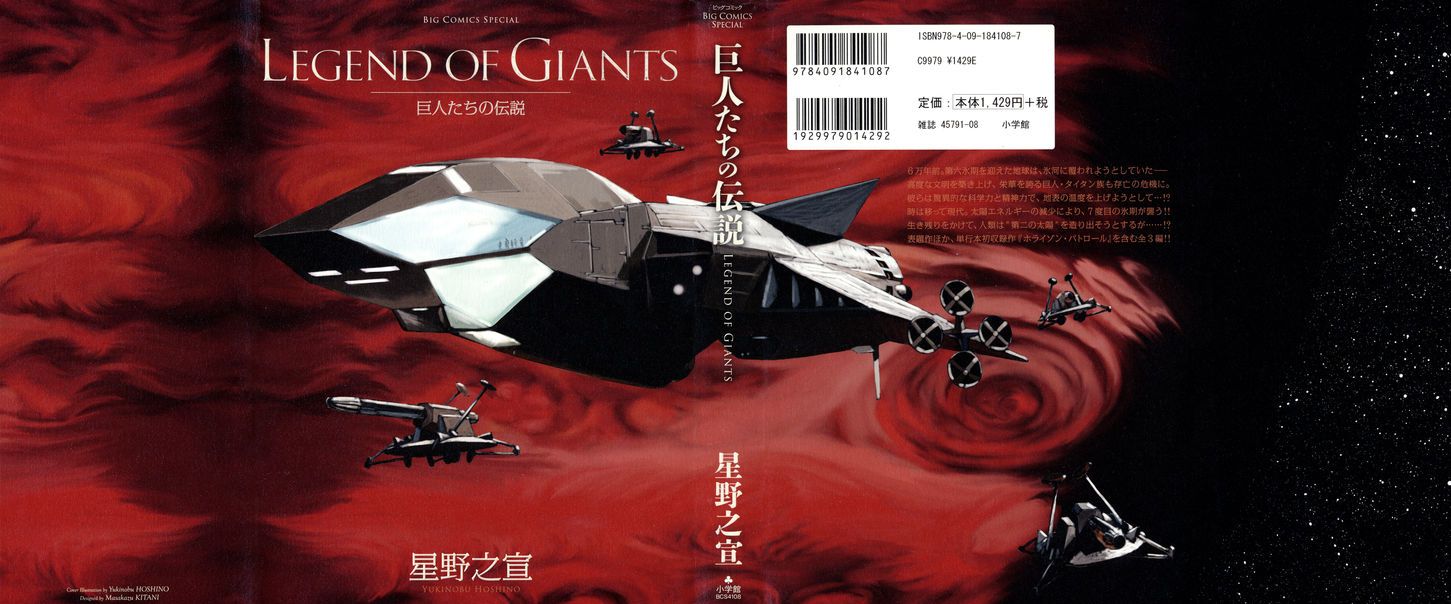 Legend of the Giants ist eine Sammlung von Short Stories von Yukinobu Hoshino. Eine der Geschichten erinnert stark an das spätere "Erbe der Sterne" das der Zeichner aufgreift. Der Manga ist älter und erschien 1975 bei Shuukan Shounen Jump im Shueisha Verlag.
Legend of the Giants
Die Kurzgeschichten:
Legend of the Giants: Ein Science-Fiction Drama über Menschen, zu denen Prometheus inspiriert hat. Die Menschen versuchen einer Eiszeit mit Feuer beizukommen.
Icarus Asterioid: Ein Science-Fiction-Drama über eine Smogverseuchte Welt in der ein Raumschiff genug Energie zur Erde schicken soll, damit die Menschheit überleben kann.
Horizon Patrol: Science-Fiction Action bzw. Comedy über die futuristische Erde, die von etlichen Highways durchzogen ist und zwei Officers, die versuchen die Straßen sauber und sicher zu halten.
Der Zeichenstil
Am Zeichenstil ist gut zu erkennen, dass es sich um ein frühes Werk von Yukinobu Hoshin handelt. Sein realistische Zeichenstil ist schon zu erkennen, wirkt aber nicht so ausgereift wie in späteren Werken.
Fazit
Der Manga ist unterhaltsam und einen Blick Wert. Als überragend würde ich ihn nicht bezeichnen. Die Geschichten sind einfallsreich und es sind Elemente späterer Werke von Hoshino erkennbar. Wer früheres von dem Zeichner lesen will, kann beruhigt zugreifen. Bisher gibt es den Manga nur als japanischen Import über das amerikanische Amazon zu beziehen.
Stardust Memories
Stardust Memories ist eine Kurzgeschichtensammlung von Menschen in der fernen Zukunft, die den Schritt ins Weltall gewagt haben. Jede Geschichte beschreibt moralische Konflikte, die sich bis jetzt noch nirgends offenbart haben. Stardust Memories spricht über Probleme und Folgen der Reisen und Missionen, welche die Menschen jahrelang und Jahrzehnte in die Tiefen des Alls entsenden.
Zeichenstil
Auch in diesem Band hat Hoshino bereits einen realistischen, detailreichen Zeichenstil, der die Kurzgeschichten gekonnt rüberbringt.
Fazit
Hoshinos Science-Fiction Kurzgeschichten regen zum Nachdenken an. Es gibt ruhige, aber auch actionhaltige Passagen mit einem erhobenen Zeigefinger als Hintergrundrauschen. Aber gerade das macht Yukinobu Hoshinos Geschichten so spannend und interessant. Für Science Fiction Fans sind sie auf jeden Fall eine Empfehlung.
Chibiki no Iwa
Chibiki no Iwa ist ein weiterer Oneshot von Yukinobu Hoshino. Das Genre welches er diesmal bedient ist Mystery und Horror.
Die Handlung
Miss Mikanagi verliert als junges Mädchen ihre Familie bei einem Erdbeben. Was ihr dabei nicht aus dem Kopf geht sind merkwürdige Gestalten, die ihren Bruder mitgenommen haben. Diese Dämonen, welche von der Todesgöttin ausgesandt wurden, suchen jetzt die Schule heim, an der sie unterrichtet und nicht nur dort sind grausame Todesfälle vorprogrammiert.
Hier finden sich auch zwei Kurzgeschichten, die bereits im Sonderband der Reihe von Professor Munakata ihren Auftritt hatten.
Folgende Geschichten sind enthalten:
Chibiki no Iwa (2002)
The Yomi Vortex (2002)
The Hisame (2004)
Chigaeshi-no-Tama (2004)
The Marebito Mask (1995)
The Earthian Woman (1993)